What is 3x3 Lab Future?
The "3x3" of 3x3 Lab Future is intended to engage the three elements of the environment, economy, and society like gears and a third place, where the location is neither home nor office. Our purpose is to realize a sustainable society for future generations in an activity and collaborative workspace crossing business boundaries.
The OMY district, Japan's leading business district, has accumulated memories and knowledge from the past and has the infrastructure as a major hub of Japanese transportation. We will develop this highly creative community while taking advantage of these resources to generate businesses for the future.
Four Keywords
Realization by yourself

Realize workshops and concrete projects that lead people to act on their own initiative

Design the future society

Address environmental and social issues and clarify the connection on a global scale

Develop people and create businesses

Develop the ability as a producer and as an innovator to generate new businesses through trial and error

Third Place is neither home nor office

Establish a comfortable space to foster awareness of visitors and to make connections among them
---
Three Main Functions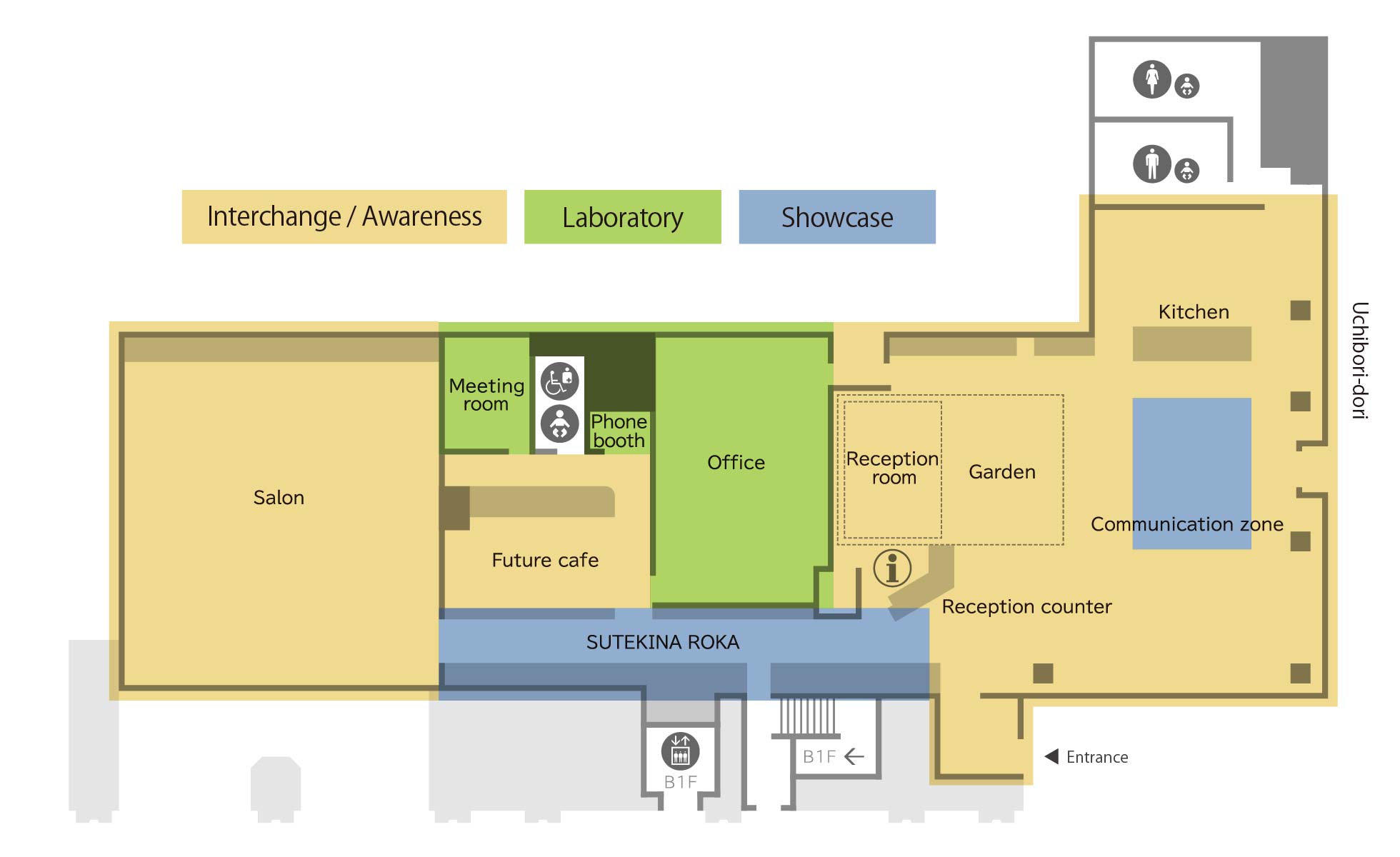 Interchange / Awareness

Contribute to making connections and to raising awareness among employees and visitors from inside and outside the country by holding open seminars.

Laboratory

Integrate technology, information, and data that will germinate new environmental businesses by collecting information on new-generation technologies and systems and by verifying the effectiveness through deployment in a model office.

Showcase

Visualize and disseminate information on leading-edge initiatives by this facility and the entire OMY District for showcasing to the world the advanced efforts made by Tokyo as an ecological city.
---
11 Zones

---
Salon
A seminar room with a capacity of 120 people, and it is pleasant to walk barefoot on the 100% sisal hemp floors. Underneath the front porch is a storage space. The tables and chairs were generated from the laminated bamboo lumber project in Kurashiki City of Okayama and were created from traditional Japanese wood technology of Hozokumi.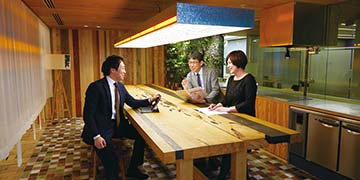 Future Cafe
Next-generation gathering space is available as a semi-closed meeting room or as a service kitchen when hosting seminar at Salon Zone.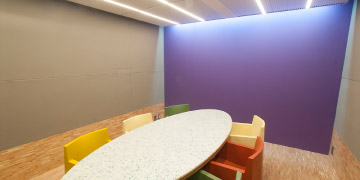 Meeting Room
An environmentally conscious small meeting room with LED integrated radiant panels made by Sasakura Engineering Co., Ltd., floor created with the remnants of chopsticks, and easily recyclable chairs made from a single material.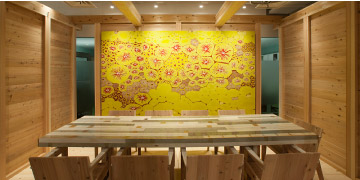 Reception Room (Itakura Method Exhibition)
The room is produced by the Itakura Method under the supervision of Kunihiro Ando, professor emeritus of the University of Tsukuba. The picture, Big Bang, on the wall is the work of Yuki Nagatomo, Tokyo University of the Arts.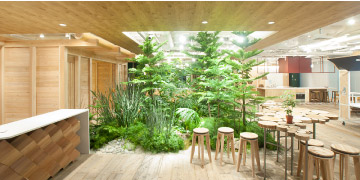 Garden
A courtyard of diverse trees, both hardwoods and conifers. Equipped with LED lighting and an automatic watering system.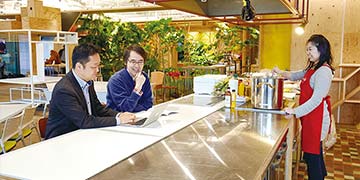 Kitchen
This kitchen is available for various types of events. A meeting space that can be partitioned is included.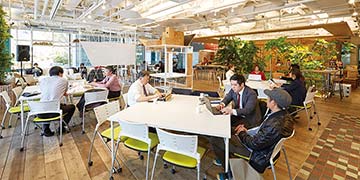 Communication Zone
A space of 120 m2 available for different types of gatherings. The layout can be changed with mobile tables or sofas as needed with movable partitions that add flexibility and variety to the space. The wood of the floor is domestically produced cedar from old construction site scaffolding.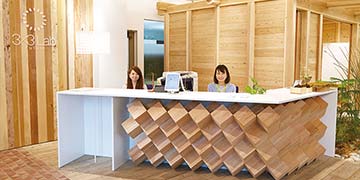 Reception Counter
Ninety-nine cubes of Owaseko cedar, which has a stronger scent than a typical cedar, cross-cut so that its scent is exuded more readily.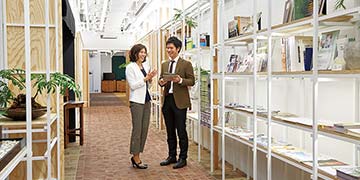 SUTEKINA ROKA
A "Lovely" hallway to connect "Meeting" and "Interchanges." Gridwall panels composed of a thin frame and cedar create a space with multiple exhibition media functions. Panasonic LED line lights on the ceiling utilize image sensors that can be controlled individually to save energy.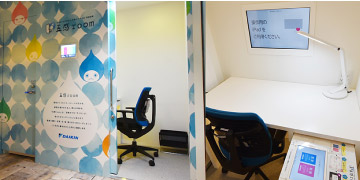 Phone Booth
Collaboration facility with Daikin Industries, Ltd. It is a small working space with devices available to control the temperature, air, light, sound and aromas. This explores a progressive, future-oriented space with comfort.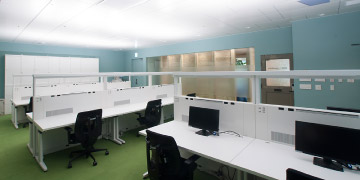 Office
This office, installed with radiant heating and cooling system, desks with individual heating and air conditioning, and chairs with stress checkers, is proof of the concept for a next-generation office with priority on energy conservation and comfort.
---
Other Points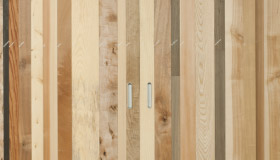 Domestic Wood Doors
Discover the attractiveness of about 20 different woods bonded together.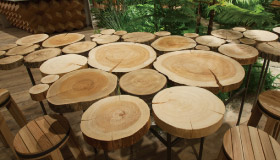 Log Table
Table where one can feel the tree rings of different ages and species of trees.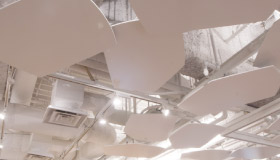 Polygon Water Circulatory Panel
This water radiant panel made by TOYOX Co., Ltd., is incorporated into the ceiling.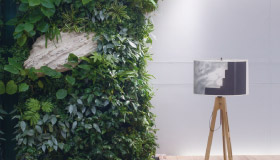 Walled Garden
Automatic watering system taken over from Ecozzeria. The circulating water purifies the soil.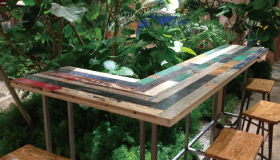 Recycled Material Counter
Surprisingly, this counter is made of scrap from a ship, and the wood offers excellent water resistance.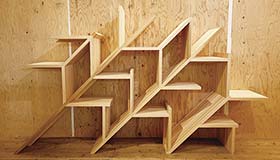 Furniture through Collaboration with Students
A few productions in collaboration with the Kuwasawa Design School. You will rediscover the charm of cedar.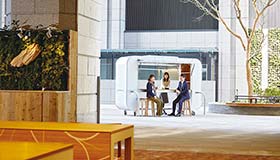 Salon Garden
Available with the salon zone for an event when the glass screen is fully opened.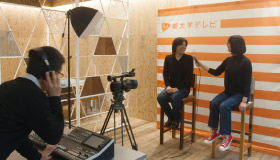 Morning University TV of Marunouchi
A television studio offering adult education programs on weekday mornings with the entire OMY area as the campus.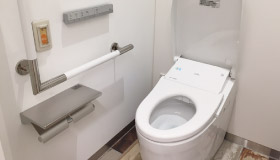 Ultra-Water-Saving Toilet
Ultra-water-saving toilet, TOTO's realization of comfort and ecology. To use less water effectively.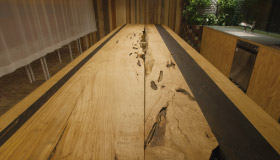 Chestnut Table
A massive table combination of solid chestnut planks from Nagano Prefecture and Jindai chestnut blackened underground.
Recycled Door from the Old Marunouchi Yaesu Building
The door was relocated from a Showa era building. One must see the characters hand-carved by artisans.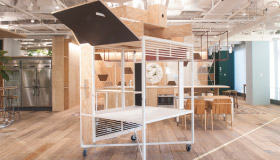 CSV Tree
A reception screen to display CSV activities in the OMY area.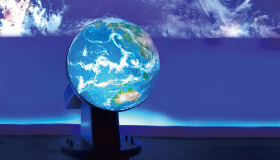 Tangible Earth
Interactive Digital Globe that allows users to view and understand the condition of our planet. Invented by Shinichi Takemura.
*Digital Globe in 3 x 3 Labo (Nippon Building, 6F).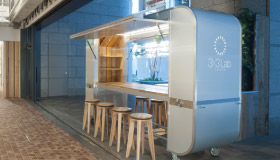 Creative Stall
Stored electric power from solar panels on the roof is available as internal lighting in the event of a disaster.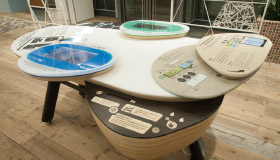 The Purification of the Moat Information Table
The table introduces moat purification involving the building.